Joined

Sep 24, 2014
Messages

76
Location
Your u is perpendicular to NFA and w is aligned with the NFA.
Yes when derivatives are computed in the no-feathering coordinates frame (S). Others derivatives (X,Y,Z,L,M,N) are computed in the body fixed coordinates (F), which is the one we use for stability purpose. See the following figure :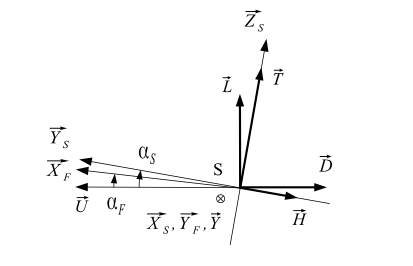 ​
Bramwell has his u aligned with the direction of flight
You are right. It is clearly stated page 141 and this explains why in these axis, they can write : ∂Ct/∂û =∂Ct/∂μ.
Unfortunately these axes can only be used for the pure longitudinal motion but not for 3D motion, because body m.o.i. Ixx, Izz and Ixz are not constant in wind axis (in fact Iyy is no more constant when sideslip angle varies). They are only constant in the body fixed coordinates.
Last edited: