Joined

Jan 16, 2006
Messages

2,859
Location
Aircraft

Aviomania GS2.
Total Flight Time

600 ish solo gyro and 190 ish two place
Ed Lemoine and I love our Dominators. We could not imagine an aircraft for anywhere near the money that we would love flying as much as we do our Domi's. However there are a few modifications we have made over the last several years which makes our Dominators even more enjoyable and have expanded their capabilities. Most of them have been posted as we did them, we thought we would like to put them all in one place and include some sources.
The most recent was the remounting of the radiator to correct a problem that penguin spotted. He choose to mount his radiator as Roy Davis does on his machine. At Bensen Days we had the opportunity to look at Larry's mount and loved it so we emulated/copied it. I will post the pics and Edy will come on with narration in the following posts, since all the implementation was him. I just provided cold beverages while he worked.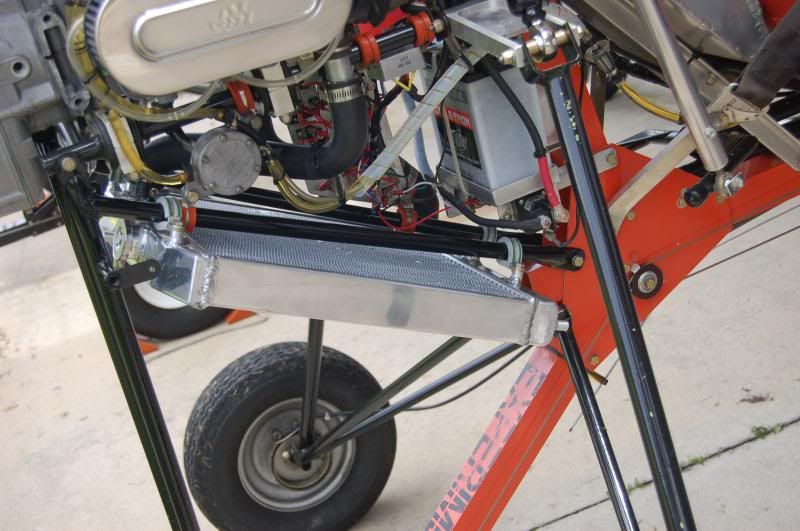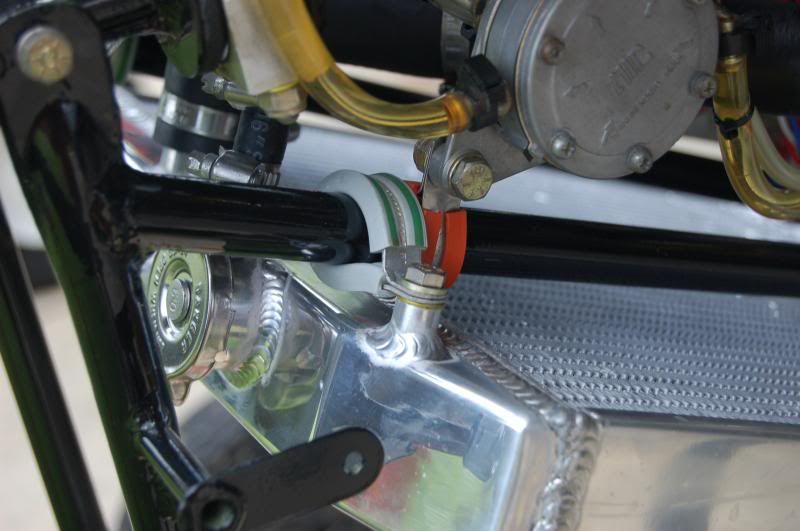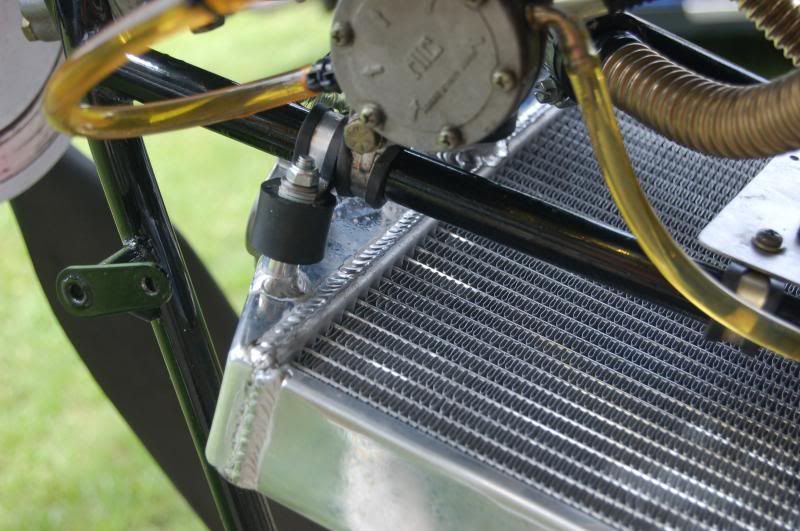 We got the radiator at Amazon.com for $52.88.
Fastwayracer FW-RD-92CIVIC, Honda Civic Manual 2 Rows Aluminum Racing Radiator Half Size
Ed got a very heavy duty Adel Clamp and I used standard ones from Aircraft Spruce, with a rubber isolator.
If you like the rubber standoffs they came from Granger, and Edy will chime in with the dimension and thread description.
http://www.grainger.com/Grainger/ecatalog/N-1z0dkv7
The second modification that we have done was to replace airshocks with standard coil over shocks. This was inspired by Scott Essex. The ones we used came off a Volkswagen. The rod ends were modified by Ed.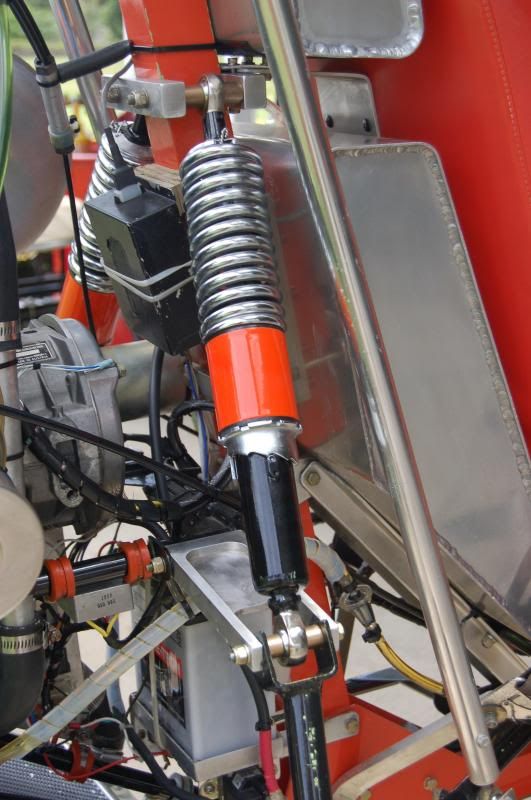 The shock modification has been included in a prior post but we would like to get them all together in one place.
The springs came from DT Product.com
http://www.dtproduct.com/motorcyclesaccerssories.html
I used the 8 inch and Edy used the 7.
The shocks came from here.
http://www.chircoestore.com/catalog...cts_id=2490&osCsid=qf0vpfee9ih6ebfmhu7553v0n7
THEY CHANGED THIS PAGE HERE IS THE ONES WE USED
https://chircoestore.com/adjustable-coil-over-shocks-all-rear-and-link-pin-front-pair.html
The shocks were 73.04 delivered with the "newmember" discount code.
The springs were 26.95 delivered.
So for a $100 bill, new suspension.
Ed did put the rod ends on and if your a good welder that's probably a good thing to do.
The next enhancement is to backup the tailboom bolt where it attaches to the mast. I broke one, Scott Lewis broke one, and I have heard of at least two others. Its a simple fix but adds greatly to my piece of mind.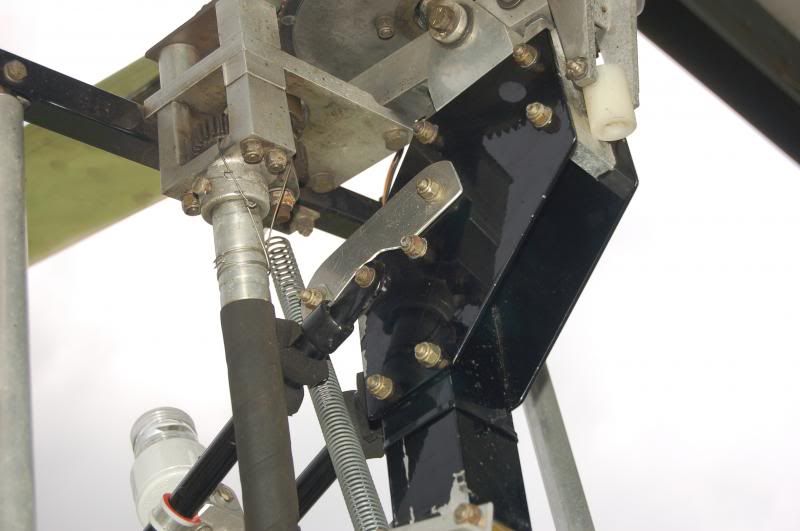 The last enhancement was an auxiliary gas tank. I am referring to the one on the bottom. 7 Gallons is just not enough time for any kind of cross country. With the additional tank we have between 10 and 11 gallons. The small tank above holds another 1.7 gallons but is not usually required for our daily flying.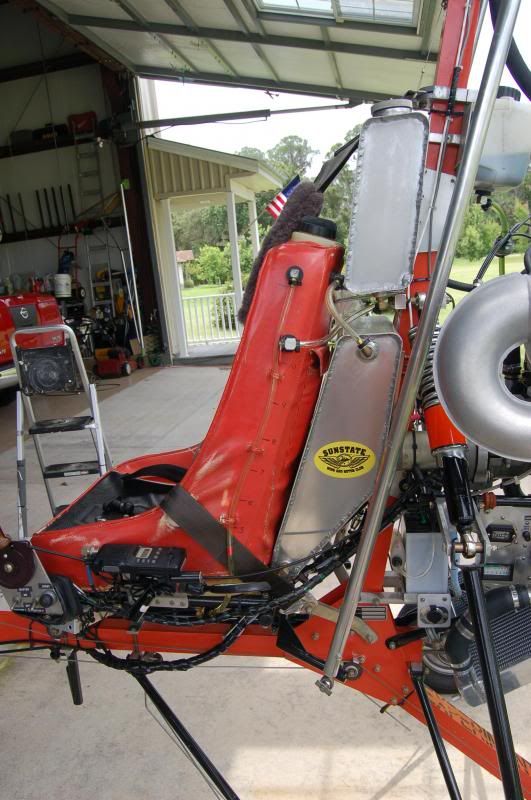 Here is a picture of the shocks using the 8 inch spring.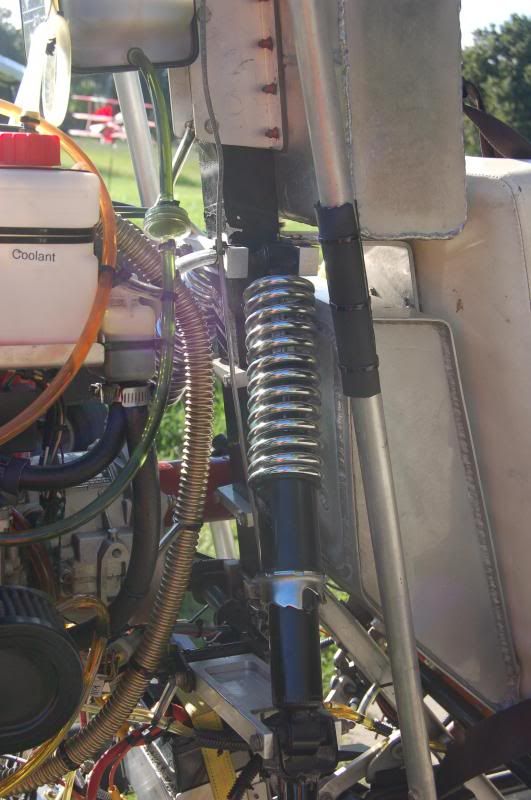 Here is the replacement steel braces for the seat support.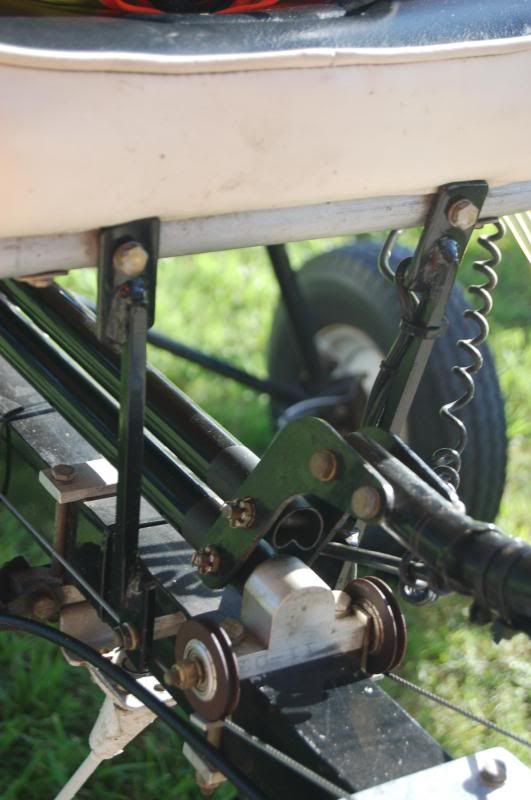 and the Behemoth bracket that solved my pre-rotater problems.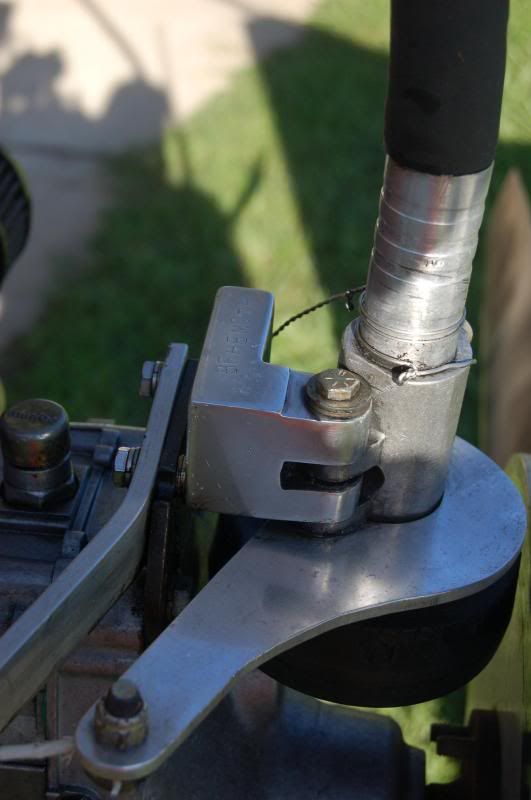 Last edited: