Joined

May 21, 2006
Messages

3,278
Location
Who desires to purchase a used UH-60M Black Hawk?
Wayne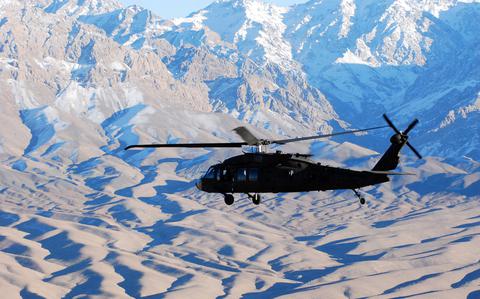 As the Army pushes outdated UH-60 Black Hawk helicopters into retirement, a program created 10 years ago is selling them to generate cash for the government.

www.stripes.com
Army program sells Black Hawks as venerable aircraft approaches phase-out date
By JUAN KING
STARS AND STRIPES • July 14, 2023
A UH-60 Black Hawk helicopter flies over eastern Afghanistan, Nov. 11, 2013. (Peter Smedberg/U.S. Army)
As the Army pushes outdated UH-60 Black Hawk helicopters into retirement, a program created 10 years ago is selling them to generate cash for the government.
The Black Hawk Exchange and Sales Transaction program, or BEST, allows the Army to sell outdated equipment and use the proceeds to purchase new equipment, program contractor Gerald Dwyer told Stars and Stripes by email Wednesday.
BEST has "exchange authority" from the General Services Administration to make the sales.
"Exchange authority gives the U.S. Army an opportunity to get return value for obsolete items while obtaining similar items," Dwyer said.
The Army announced in December its choice — the Bell Textron V-280 Valor — to replace the venerable Black Hawk, a workhorse for the service since the late 1970s. Defense contractors Sikorsky, the Black Hawk's maker, and Boeing both objected to the decision, a deal reportedly worth more than $1 billion. The Army expects to replace its Black Hawk fleet by 2030.
In the meantime, the BEST project office strips 17- to 25-year-old aircraft from the Army inventory and sells them at auction, first to federal government agencies and then to other entities, including civilian buyers, Dwyer said.
The Army has sold more than 600 obsolete but flightworthy aircraft, including Black Hawks, unmanned aerial systems and other fixed-wing aircraft to federal and state agencies and civilian customers, he said.
Foreign governments, such as Saudi Arabia, have also benefited from the program.
The U.S. delivered 17 UH-60M Black Hawks to Saudi Arabia in 2018, along with equipment, parts and logistical support, for an estimated $495 million, according to a 2015 release from the Defense Security Cooperation Agency.
At home, the aircraft are sold to firms like Black Widow Helicopters, headquartered in Wyoming, which modifies the Black Hawk at its facility in California.
"We provide full modernization of the legacy Black Hawks, so our facility creates the most cost effective and modern version of a Legacy Black Hawk," Black Widow program manager Alex Freidin told Stars and Stripes by email June 23.
Upgrades include new paint jobs, new interiors, touch-screen glass cockpits and exhaust overhauls, according to the company's website.
Black Widow has put 24 helicopters, either the Black Hawk or its predecessor, the Bell UH-1H Huey, into circulation worldwide.
"Our ability to modernize U.S. Army BEST Program UH-60 Black Hawk aircraft to local and international customers is an excellent way for clients to quickly acquire a helicopter platform renowned for its reliability, high performance and multi-role versatility," Freidin said.
The company keeps many of its customers' identities confidential, he said, but on June 19 it announced the delivery of a second Black Hawk to Trans Aero Ltd., a Colorado-based company that puts the helicopter to work worldwide on missions that include firefighting, transportation and photography.
The Black Hawk is a great asset as a year-round utility aircraft, Trans Aero president Kevin Shields said in a company release.
"Adding a second Black Hawk to our fleet is a significant event for us," he said.
Juan King is a reporter, photographer and web editor at Yokota Air Base, Japan. He joined the U.S. Navy in 2004 and has been assigned to Stars and Stripes since 2021. His previous assignments have taken him to Afghanistan, Bahrain, Guam and Japan.