http://www.aero-news.net/index.cfm?C...-665fb3f709ec&
GO HERE:
www.seaplanepilots.org/inspa
,
www.onlinepetition.com/inseapln
Indiana Seaplane Pilots Fight For Their Right To Land In Lakes
Mon, 26 Jan '09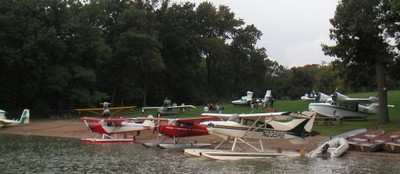 Issue Call To Action For Upcoming Hearings With IN DNR
The Indiana Seaplane Pilots Association (ISPA) has issued a call to action in support of a proposal to increase public access to Indiana lakes for seaplanes.
After 10 years of a pilot program designed to show the feasibility and compatibility of opening more Indiana lakes to seaplane traffic, the Indiana Departments of Natural Resources (INDNR) and Transportation (INDOT) have scheduled two public meetings to solicit public comment on a new proposal to loosen restrictions ever so slightly.
Since 1998, ISPA has worked with the state to establish a network of 17 Indiana lakes with private-use seaplane landing areas. INDNR's new proposal would grant public-use status to five of those lakes.
"We have worked hard to demonstrate that seaplanes can safely and effectively share Indiana's waters," said Randy Strebig, president of ISPA. "Indiana lags far behind states like Illinois, Michigan, Wisconsin, and Minnesota in access for seaplanes to public waters."
Those states have literally thousands of public-use landing sites for seaplanes. In Indiana -- where the law is "no landings except on lakes with designated seaplane bases" -- there are only four lakes with designated public-use landing areas.
Four lakes out of over 700, the group adds. In the long run, ISPA is hopeful that even more lakes can be opened to seaplane operations, but this move is a small step in the right direction.
Nevertheless, ISPA representatives are cautious about the prospects. "Any time a public policy is up for review, there is potential for bad changes to be made," said Strebig. "We need as large a showing of support as possible."
ISPA is asking seaplane supporters across the nation to send letters and e-mails of support for the change to INDNR and INDOT. In addition, ISPA urges all supporters in and around northeastern Indiana to attend the hearings and make their voices heard.
ISPA has posted a sample letter of support on its website, and also has set up an online petition. The first meeting will be held at the Potawatomi Inn in Angola, IN on February 3; the second, February 4 at the Indiana State Department of Natural Resources District 2 Conservation Officers HQ in Columbia City.
__________________
"The exhilaration of flying is too keen, the pleasure too great, for it to be neglected as a sport"— Orville Wright
Tim OConnor, CFI, Commercial Pilot Rotorcraft, Sport Pilot Fixed Wing, FAA Advanced Ground Instructor:..
PRA Member #38872,
You CAN Afford to FLY ! -->
http://www.YouCanAffordToBeAPilot.com
Rotorcraft 11,000 file archive